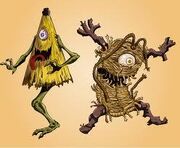 Roscow was an evil demon who was brothers with Spotxspott and a member of Mikes Army. He was a demonic Umbrella that came to life with Mikes evil demonic chanting. Roscow had a family of other living Umbrellas who he deeply cared for but they were also evil. Roscow The Umbrella claimed that Umbrella People and Humans can co-exist together but Popeye The Sailor of the Radioactive Uber Clan knew these were all lies. Popeye began to kill Evil Umbrella Demons and captured supporters of the evil Umbrella People/Human Peace Treaty because he knew that Umbrella People, like all other demons can not be good beings. 
One day, due to his frustration with how Popeye ruined the "Peace Treaty" between Umbrella People and Humans, told his brother Spot that he'll destroy a mall full of Children. Later that day he did, much to the RUC's anger. Popeye caught up to Roscow and his family of Umbrellas and began to slaughter his family members. Popeye forced the non-human Umbrella Demon to kill his own baby son to show "The amount of His Sins" on what he did. Roscow, broken was angered by all this and tried to kill Popeye. Popeye however, killed the Umbrella Demon, effectively making Spot the only person of his Umbrella Demon race alive. Popeye later fed Roscows remains to an evil demon before killing him.
Ad blocker interference detected!
Wikia is a free-to-use site that makes money from advertising. We have a modified experience for viewers using ad blockers

Wikia is not accessible if you've made further modifications. Remove the custom ad blocker rule(s) and the page will load as expected.