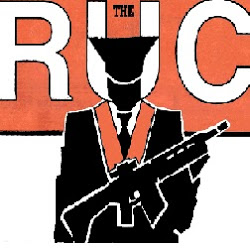 The Radioactive Uber Clan is an army of people with a common goal: To purge the world of the unwanted and save the Internet.
Our goal is to protect the civilians of the Interweb and make sure no one gets hurt.
The RUC was founded by Popeye after the downfall of Mr. Jap.
The RUC was responsible for stopping the raise of Tupak Shakur  and are currently at InterWar 3 with Mikennemonic.
History
Write the first section of your page here.
Members
Garfield
Cyril Sneer
Blossom
Bubbles
Buttercup
Ruben's Nuts
The Street Sharks
Inspector Gadget
Count Chocula
The Samurai Pizza Cats
Darkwing Duck
Hammerman
Ad blocker interference detected!
Wikia is a free-to-use site that makes money from advertising. We have a modified experience for viewers using ad blockers

Wikia is not accessible if you've made further modifications. Remove the custom ad blocker rule(s) and the page will load as expected.