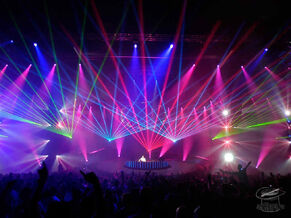 An RUAnniversary Party is a party to commemorate the anniversary of the Radioactive Uber Clan. Every part is held at RUC HQ and all kinds of music is being played. Bright lights flash all over while the party is going on and everyone dances.
All kinds of gourmet food is served during the party, all made by Fat Albert.
Recently on the center stage is Boomstick as the DJ(Also known as DJ Boomstick) while Polish Yeti dances and sings on stage.
One of the older center stage shows is the "Cat and Shark Musical" which involves a duet musical between Felix the Cat and Jabberjaw, both in tuxedos singing about the fun and times with the RUC.
At the end of the show, Popeye The Sailor usually makes a speech about how he is happy to be with the Radioactive Uber Clan, how his friendships with everyone matters to him, and what his future will bring.
Everyone gets an RUAnniversary T-shirt with the year it was held in on the bottom. Thousands of people come to join the party.
Ad blocker interference detected!
Wikia is a free-to-use site that makes money from advertising. We have a modified experience for viewers using ad blockers

Wikia is not accessible if you've made further modifications. Remove the custom ad blocker rule(s) and the page will load as expected.