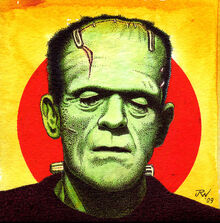 Frakenstein's Monster is the evil apprentice of Mikennemonic and soon-to-be demon. He was the undead son of Victor Frankenstein. He was once a normal, happy undead monster who loved long walks and fishing with his father.
This was when however, the evil demon Vincent came in and murdered Victor Frankenstein in front of Frakenstein's Monsters eyes. This traumatized Frankenstein's Monsters so much he fell silent and broken. The demons took the monster to their demon base.
Mike began to use his demonic chant of brainwashing to turn Frankenstein's Monster into their ally. Seeing the high power of potential in him, Mike decided to make Frankensteins Monster into his apprentice if he were to die meaning Frankensteins Monster is the next demon overlord.
Frankenstein's Monster had an epic battle against Fat Albert in which Frankensteins Monster ate one of Alberts toenails and got Albert sick for two months. He is considered to be the most dangerous non-demon around.
Ad blocker interference detected!
Wikia is a free-to-use site that makes money from advertising. We have a modified experience for viewers using ad blockers

Wikia is not accessible if you've made further modifications. Remove the custom ad blocker rule(s) and the page will load as expected.